7 things to do this Halloween 2020
Although the year has been terrifying enough, this should not stop us from enjoying some spooky fun this Halloween 😉 Undoubtedly, Halloween this year will likely be a quieter affair with government restrictions still in place. The largest Halloween event in Singapore – Halloween Horror Nights has also been cancelled due to the current COVID-19 situation. However, don't let this dampen your spirits as there are still plenty of activities you can partake in to celebrate with your family and friends! Read on to find out more about what you can do this spooky season! 
1. Gallop Stable Pasir Ris
Gallop Stable Pasir Ris is bringing you a Horsey Halloween with joy rides and pony feeding for your little ones. Their stables will surely scream spooky with pumpkin and ghost decorations to get you into the Halloween mood! Pony rides are going at $10 per ride while each feeding portion costs $2. Purchase your tickets by dropping an email to events@gallopstable.com before 25th October to redeem a free pony feed.
Address: 61 Pasir Ris Green Carkpark C Singapore 518225
Tel: +65 6583 9665
Date: 30 and 31 October 2020
Time: 8PM – 10PM
2. ACM After Dark: Heroes and Villians
Take a trip down history while in the comfort of your own home with this virtual event held by The Asian Civilisation Museum. Go on a virtual tour of the museum's galleries to discover their motley crew of heroes and villains while uncovering ancient stories and secrets. Get crafty with video craft workshops and more as you celebrate a hair-raising Halloween right at home!
Date: 31 October 2020
3. ArtScience Museum
The ArtScience Museum is hosting a slew of ArtScience on Scream special events in celebration of Halloween. To mark the 100th anniversary of arguably the first horror film ever made, the museum is screening horror film The Cabinet of Dr. Caligari online for free till 6th November. A curated series of short films by David Lynch will also be made available online during the same period. Additionally, jump into a virtual tour and prepare to learn more about some of the spookiest artefacts housed in the museum.
Date: Now till 6 November 2020
4. Universal Studios Singapore Halloween Fun
Even though Halloween Horror Nights has been cancelled this year, this should not stop you from going all out and putting on your favourite Halloween costumes for Universal Studios Singapore's Halloween Fun For Everyone! Beyond the attractions and rides available at the park, go on a trick-or-treat adventure and meet the Minion Monsters FrankenBob, Stuart Mummy, and Kevin Dracula! Dig into a spread of eye-popping Halloween-themed eats at outlets throughout the park and make this Halloween a memorable one for everyone!
Address: 8 Sentosa Gateway Singapore 098269
Date: 17 September to 1 November 2020
Opening Hours: Thursday to Sunday 2PM – 9PM
5. S.E.A Aquarium's Deep Boo Sea
Experience scares from the deep blue sea as S.E.A Aquarium brings you on a journey to meet some of nature's scariest looking marine animals. Come face-to-face with the fang-like teeth of the vampire fish and the menacing face of the wolf-eel as you explore the depths of the sea. The aquarium is also hosting trick-or-treating fun for the little ones, plus an exciting search for lost pearls in their very own treasure hunt! Stand a chance to also win the best-dressed contest and take home mystery prizes when you come in your favourite Halloween costume!
Address: 8 Sentosa Gateway Singapore 098269
Date: 19 September to 3 November 2020
Opening Hours:
Monday to Tuesday: 10.00am to 5.00pm
Saturday, Sunday and Public Holiday: 9.00am to 5.00pm
6. Go Trick-or-Treating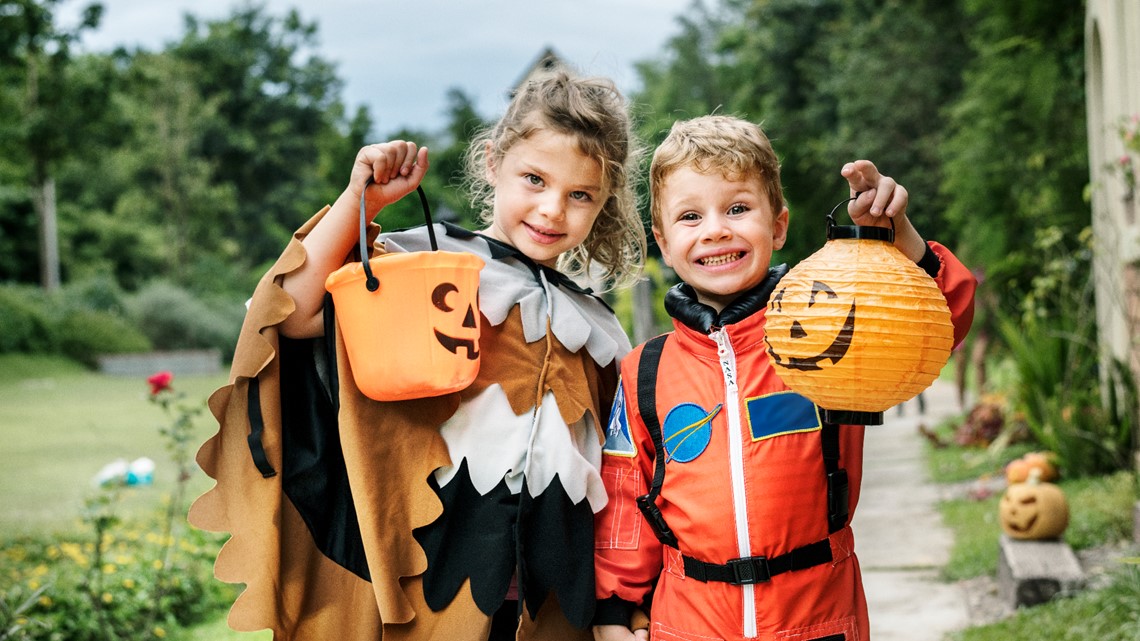 A distinct memory in every child's Halloween is going around various houses to get your candy fix! Many areas in Singapore are known for going the extra mile with elaborate decorations in their homes as the little ones run around for their trick-or-treating. However, many of these estates may be hesitant to welcome trick-or-treaters with open arms this year considering the current safe-distancing regulations. If you would still like to bring your children out for some fun, do remember to mask up and keep safe!
Alternatively, you can choose to go ghosting instead! A lesser known Halloween tradition, ghosting refers to when you pass a bag of goodies to a friend or neighbour by leaving it on their doorstep, along with a note to pass it on. The recipient will then pass on the goodwill with a new treat bag for someone else. This is definitely a better way to spread some socially distanced spookiness this Halloween!
7. Stay Home Halloween
Who says that Halloween can't be fun if you stay home? If you would rather take it slow this year and celebrate Halloween with some home-based activities, be sure to check out Good House Keeping for some ideas on baking spooky treats with the family! After a nice afternoon of baking, curl up with the clan and watch a scary movie together to get everyone in the Halloween mood! Check out this list of scary films you can watch to get a good scare!
Check Out Our CardsPal App!
If you are not one to celebrate Halloween extravagantly, why not gather some of your closest friends for a small get together instead? Check out the CardsPal app for deals and discounts at various restaurants so you can celebrate Halloween without breaking the bank! Download the CardsPal app now so you can start browsing for deals on the go! Get to know us here. Download the app on the App Store or Google Play Store now and get the latest deals, tailored according to the cards you own!